Slavery in the US
Instructions: : Read the text about Slavery in the US. Look at the words in bold.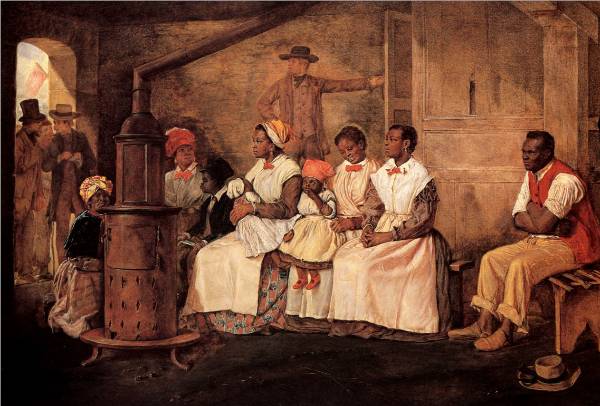 Slaves waiting for sale - Richmond, Virginia. Wikimedia commons.
Slavery in America started in 1619, when a Dutch ship brought 20 African slaves ashore in the British colony of Jamestown, Virginia. Throughout the 17th century, European settlers in North America turned to African slaves as a cheaper, more plentiful labor source than indentured servants, who were mostly poor Europeans. Though it is impossible to give accurate figures, some historians have estimated that 6 to 7 million black slaves were imported to the New World during the 18th century alone, depriving the African continent of some of its healthiest and ablest men and women. In the 17th and 18th centuries, black slaves worked mainly on the tobacco, rice and indigo plantations of the southern coast, from the Chesapeake Bay colonies of Maryland and Virginia south to Georgia. After the American Revolution, many colonists—particularly in the North, where slavery was relatively unimportant to the agricultural economy—began to link the oppression of black slaves to their own oppression by the British, and to call for slavery's abolition.