British Medieval Drama
Instructions: Read the text. Look at the underlined words.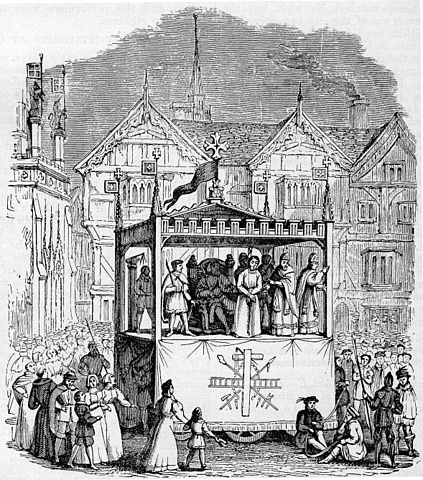 Imagen: Chester Mistery Play, David Gee (1825), Wikimedia Commons.
In the Middle Ages, drama in the vernacular languages of Europe couldn't emerge from any other enactment than liturgy. Mystery plays were presented on the porch of the cathedrals or by strolling players on feast days. Miracle and mystery plays, along with moralities and interludes, later evolved into more elaborate forms of drama, such as was seen on the Elizabethan stages. Another form of medieval theatre was the mummers'plays, a form of early street theatre associated with the Morris dance, concentrating on themes such as Saint George and the Dragon and Robin Hood. These were folk tales re-telling old stories, and the actors travelled from town to town performing these for their audiences in return for money and hospitality.